Facebook Messenger Scams are becoming a popular tool for cybercriminals. This social networking app has been plagued by scammers for years. These criminals pose as friends and relatives, asking you for money and personal information. In some cases, they will even steal the identity of a friend or relative to create a look-alike account. These scammers count on the fact that you are likely to trust a message from someone you know.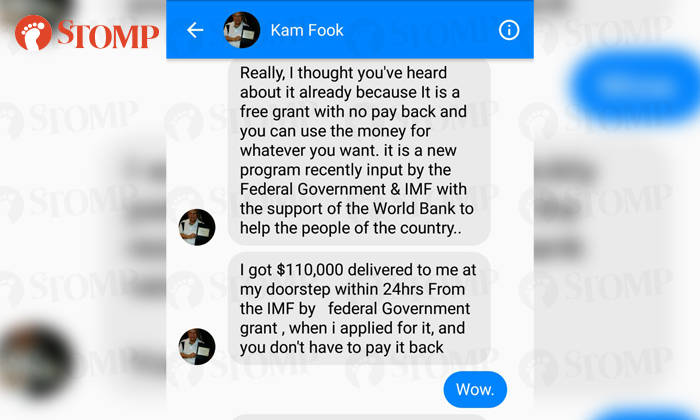 However, these messages may be more than just a scam. A Facebook security expert, Sean Messier, warns against providing financial information to a stranger through Messenger. "If they seem out of character, don't open them," he says. Unless you've verified the sender, you should never provide personal information, such as your credit card number. That's the first sign that you're getting targeted by a scammer.
What Happened to Me Today
I, personally, got one of these at 4:00 AM and I live in Canada.  The person it was supposed to be from just lives down the street from me and there is no way that she would be messaging me at that time.  This is a red flag showing that it's not coming from this continent – most likely from a scam call centre in either India or Nigeria.
The message was, "Good to hear from you,God has also blessed me recently through the new FGG program and it has really changed my life more better. Have you also heard about it before?".  Notice the poor grammar, punctuation and spelling?  Another red flag. English is NOT this person's first language.  They were also very pushy saying, "You gonna miss this opportunity right?  Are you there?".  Pushiness is also a common sign of a scammer.
How to Avoid Facebook Messenger Scams?
Make sure that you choose a password with letters, capital letters, numbers and special characters.  Check out this chart.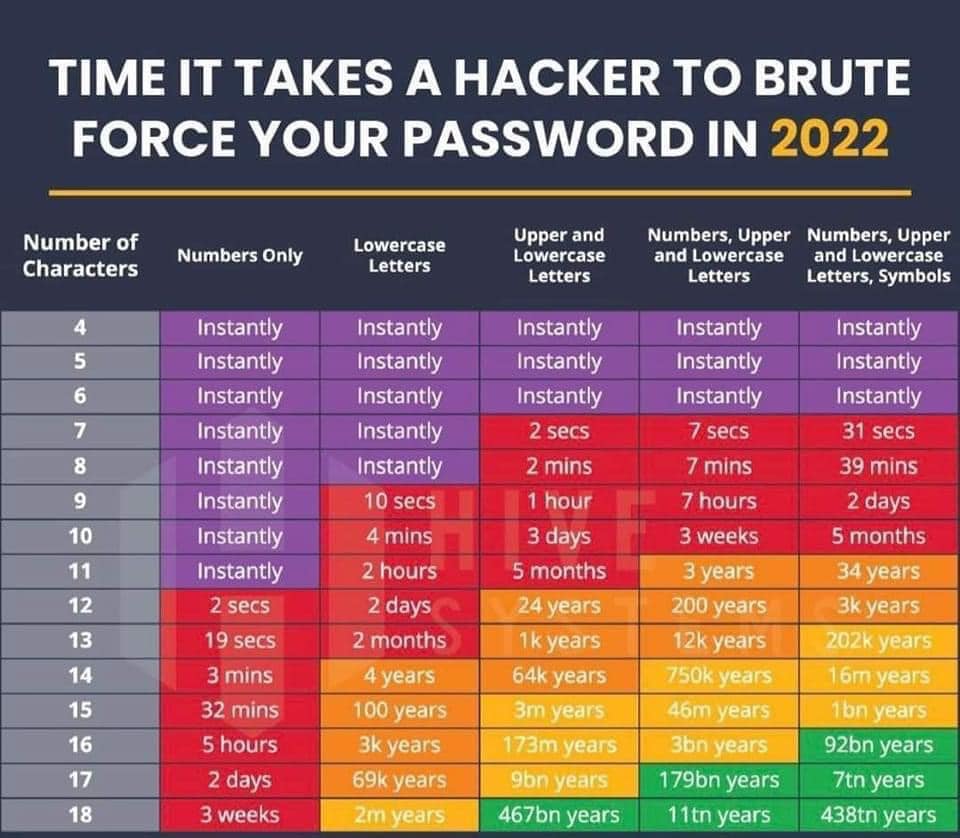 Two Factor Authentication
Using Two Factor Authentication (2FA) is important to secure accounts and applications. The most popular types of 2FA include passwords, personal identification numbers, and smartphones. This authentication process enables users to verify their identity and make purchases online without revealing any personal information.
Social media accounts especially need this.  Just go into settings and find it and enable it.
How Do Hackers Get Into My Account?
Hackers have many methods for getting into your account. They often impersonate a trusted contact and send emails asking for sensitive information. Once you type in your personal information, the hackers will have access to your account. As a result, 2FA is essential for ensuring that your account is secure. This authentication is also effective in protecting bank accounts and online credit card portals. But how do you ensure that your account is secured?
One of the most effective methods is to employ 2FA in combination with a strong password. The two-factor authentication is a simple method that prevents unauthorized entities from accessing your personal information. However, you should not rely on a smartphone or PDA as a second factor. The main advantage of 2FA is its convenience and security. It is easy to implement and requires only a small investment of time.
Be Wary
Another way to avoid Facebook messenger scams is to be wary of messages requesting money. These messages usually ask you to send money or to pay an application fee. While this doesn't actually harm anyone, it's a risk to share personal information. People are always eager to donate to charities, so this makes it easy for scammers to convince them that their cause is worthy. One example of a Facebook messenger scam is an image posted by a child begging for money.
If you're concerned about getting scammed, don't open any attachments sent via Messenger. If you get a message that seems too good to be true, don't open it. The message will be sent from an impostor. In order to protect yourself, you need to report the message to the Facebook security service. Then, it will stop being a scam. That's all it takes. So, stay safe.
Verify Identification
If you're suspicious about a message, don't respond until you've verified that it's legitimate. Make sure that it's from a known person by contacting them. In some instances, a scammer will ask you to send money or pay an application fee. Neither of these actions will help you protect yourself. It's better to ignore these messages. Instead, take a screenshot of the message and send it to Facebook. You'll never be able to verify the validity of the messages on Facebook without some sleuth work.
If you're receiving unsolicited messages, be sure to check your Facebook messages. Oftentimes, scammers ask you to donate money to their cause. When they ask for money or personal information, they'll insist that you send them money. In fact, they'll often also ask you to pay a fee to join the company. If you're suspicious, you can also call the person back. These are usually scammers who look similar to each other. If you're not sure if it's a scammer, try to contact them.
If you are unsure about who you're communicating with, you should never reveal personal information without confirming it with your Facebook account. These scammers will ask you to send money or an application fee so that they can obtain access to your personal information. This is a scam and it can be dangerous for your privacy. You should never give out personal information to people on Facebook. In fact, never provide this type of information to strangers.
NEVER Give Out Personal Information
If someone asks for your personal information, be cautious. These messages are typically fakes, and you should never reveal any personal information to anyone. If someone asks you for your credit card number, they're using a fraudulent application process and want to steal your personal information. They'll send you a fake application to access your account. Don't be fooled by these scammers! It's not worth your time.
Be Safe and Don't Respond
If you're receiving these messages, don't respond. Scammers can make you feel pressured to give your passwords to them or to divulge your personal information. Despite the fact that these messages aren't harmful, they may be scams. But if you don't want to be part of the scam, don't give it to them. Moreover, if the message comes from a person you don't know, it's a scam.
Keep Safe From Facebook Messenger Scams?
A Facebook messenger scam is a common form of cybercrime. Although they are not as common as other types of cybercrime, they can leave you stranded. If you're the victim of a Facebook messenger scam, you'll need to take action as soon as possible to avoid losing your money. You should also be wary of the pressures posed by fake messages. When you're asked to provide money, don't respond right away.
If you found this post to be useful, please like it and share it widely on social media so that your friends and family don't get victimized. If you would like to get notifications when I do new posts, just subscribe above. Comments are greatly appreciated. Above all, stay safe out there!
Related Posts
Latest Posts

There are a lot of scams and hacks out there, and you need to be very careful about them. These can happen to anyone using…
Popular Posts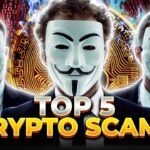 With so many people investing in altcoins and crypto tokens,…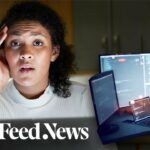 The cryptocurrency industry is attracting a lot of excitement and…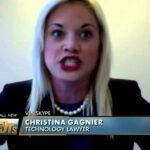 How to Protect Yourself From Online Scammers and Identity Theft…
As anybody reading my "About Darlene" page, you will see…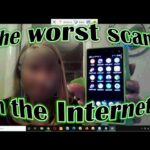 Could this be the worst scam on the Internet? These…